Bren Carrier up for sale, older restoration. Runs and drives well. $38,000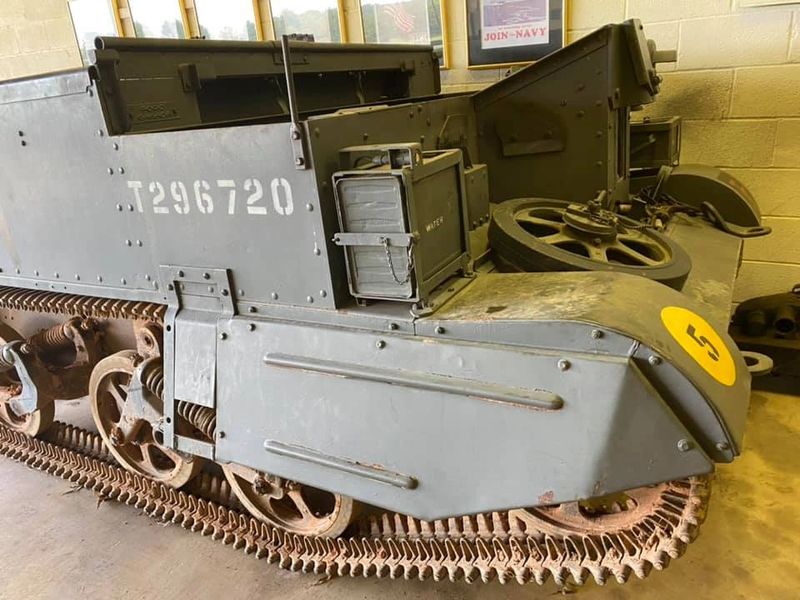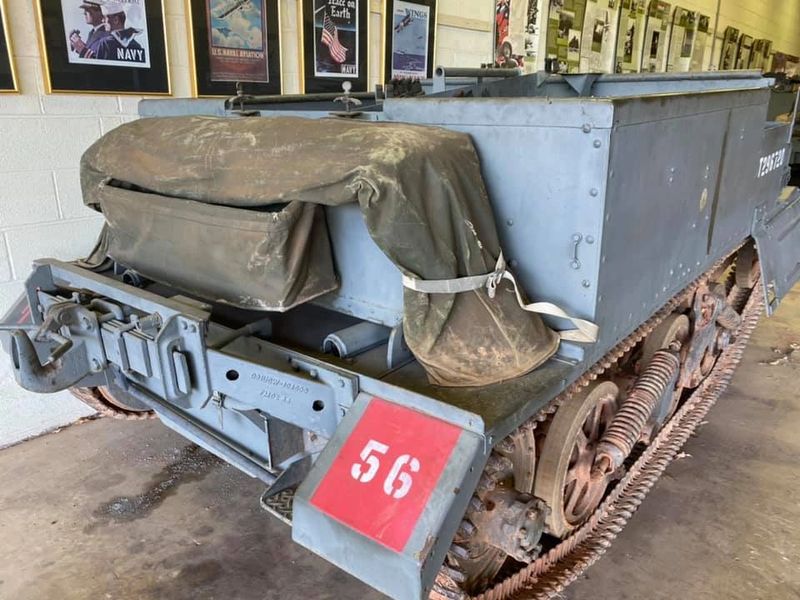 Scorpion armored recon vehicle
Recent full service pulled, runs great with many accessories and tools. Has working night vision sight and demilled main gun.
  Sold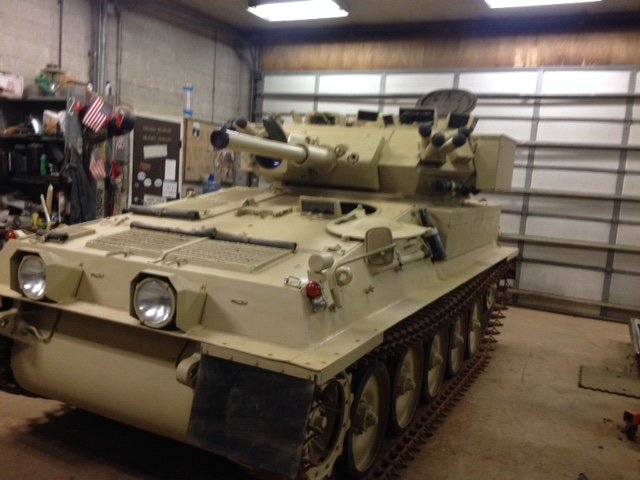 Ward La France Wrecker #1,  restored. older restoration done in New England for Frank Buck. Operational with good brakes and some kit. $15,000 more photos at http://tankstogo.com/for_sale/wrecker.htm
Ward La France Wrecker #2,  unrestored, came out of French army. Runs with some kit. Very original and complete. $15,000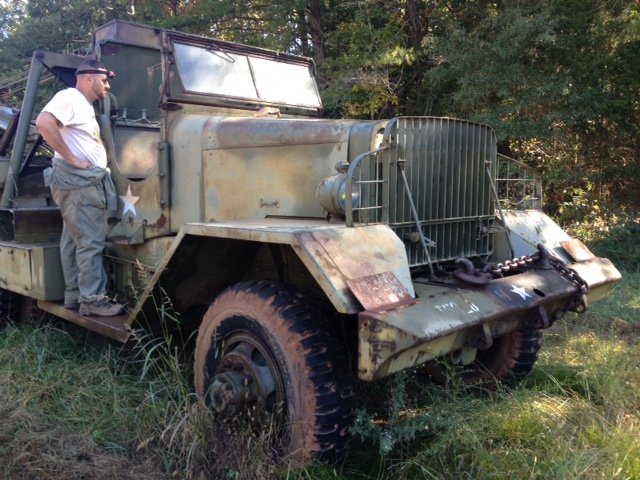 PEUGEOT SX8AR MOTORCYCLE $1200    
2 to choose from

2 CYCLE 80CC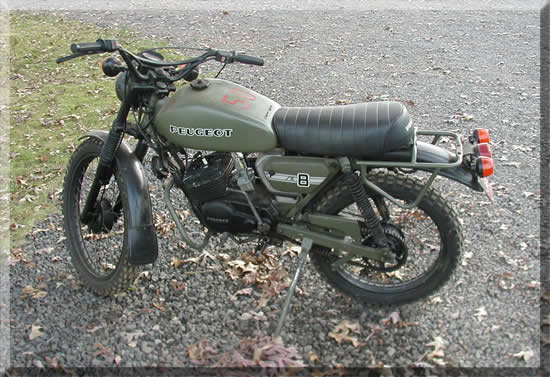 Nice Dingo for sale, 
SOLD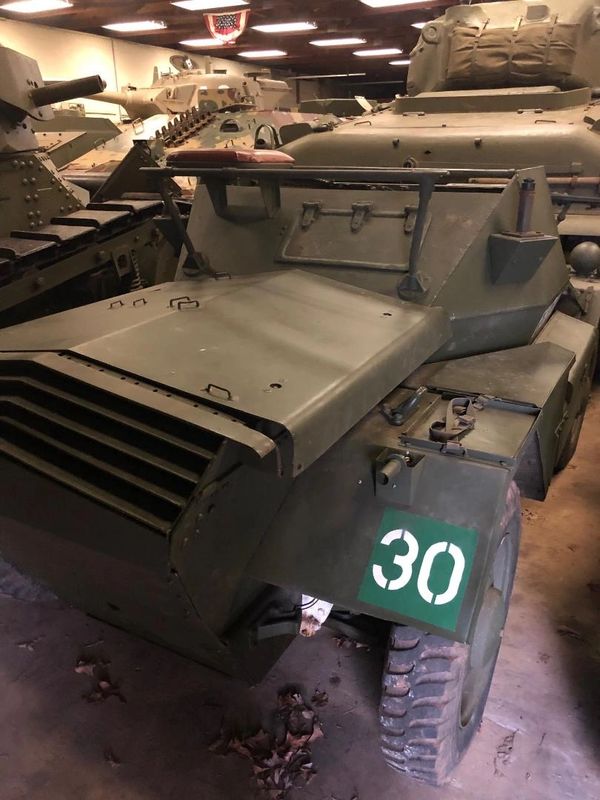 1959/1968 British Saladin Mark II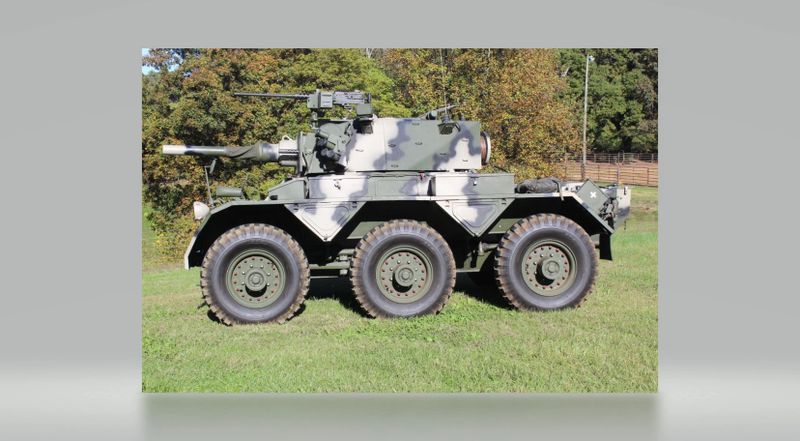 Heavy Armored Infantry Fighting Vehicle.

Totally Rebuilt.  Six Wheel Full Time Drive. Has New Rolls Royce 8 Cylinder B80 Engine & British Ministry of Defense New/Rebuilt 5 speed (in both directions) transmission. It is licensed as any vehicle to drive on the roads.
In 2009 this vehicle was stripped bare, sandblasted, and totally restored. This Saladin is registered as an antique vehicle with the Tennessee Department of Motor Vehicles to drive on the roads. With this registration renewal is never required (in Tennessee at least). It has approximately 925 total miles on it since new and less than 150 of those miles since its total restoration. It carries a live 76 mm main gun which is transferrable on a BATFe Form 4. 
It is a full time six-wheel drive. Its six tires are brand new made for it in the USA. The transmission is a five speed in both forward and reverse with a "semi-automatic" fluid flywheel drive (like a torque converter).
Also available as a separate purchase for use with this vehicle are:
§ 2 Browning 1919A4 .308 cal. machineguns
§ 1 Browning M1A .50 BMG machinegun and
§ 1 Current issue M240B .308 machinegun. 
All of the above machineguns were manufactured to operate only in the semi-automatic mode and are available for purchase via the usual FFL transfer. Armor plate gun shields and mounts have been made for or are built into the turret.
One 1919A4 Browning .308 caliber machinegun mounts coaxially to the 76 mm main gun and was originally fired by the gunner with a foot pedal from inside the turret. A 2nd 1919A4 mounts behind a steel plate shield "Chicken Plate" on top of the turret.  A 2nd 1919A4 machinegun can also be mounted on top of the turret on the Commander's side and fired by a concealed firing mechanism inside the turret so that the Commander is not exposed. See pictures. The 1919A4 machine gun behind the steel plate gun shield/mount "Chicken Plate" with ammo can mount can be swapped for the M2HB .50 BMG or with a M240B .308 machine gun. Any and/or all of these firearms are available at  additional cost.
Firing Accessories
§ Mounting Fixture for 1919A4 machinegun & ammo can
§ Mounting Fixture for M2HB .50 BMG machinegun & ammo can 
§ Mounting Fixture for M240B machinegun and ammo can
§ Breech Ring & Breech Plug for 76 mm Main Gun (BATFe Registered and Transferrable)
§ Black Powder Blank Firing Kit
§ 76 mm Shell Holders
§ 2 Loading Mechanisms
§ Gunner's Foot Pedal for Firing Machine Gun
§ Pump and Washer for Gunner's Periscope Sight
§ Concealed Firing Mechanism for Commander's side 1919A4 Browning Machinegun (.308 cal.)
§ Electric Firing Mechanism for Original Smoke Grenade Launchers 
§ 2 Sets of 6 Original Smoke Grenade Dischargers (Deactivated per BATFe Regulations) 
§ 12 Rubber Caps for Smoke Grenade Launchers 
Spare Equipment/Parts
§ Original Radio Set 
§ 4 Spare Periscopes
§ 4 Spare Interior Metal Storage Boxes 
§ Rolls Royce B80 8 Cylinder Engine Totally Rebuilt with 20 Hours on it* 
§ 5 Speed MOD Transmission (British Ministry of Defense Rebuilt) As New *
*Both Engine and Transmission Mounted in Engine Test Bed and Have Less than 20 hours on them
§ 6 Good Used Original Tires (less than 800 miles)
§ Electric Rotary Base for Commander and Gunner's Turret Power & Communications
§ 12 New Rubber Boots (gaiters) for axles
§ 6 Sets New Disc Brake Linings
§ Box of Original Wiring, Terminals & Fittings 
§ 2 Helmets wired for radios
§ 2 Speedometer & Gauge Panels 
§ 1 Ignition Panel 
§ 1 Twin Power Valve & Cut off     
§ 1 New Fluid Drive Coupling (Like Torque Converter)   
§ 1 Parts Set for Fluid Drive Coupling (Torque Converter) 
§ Set of Canvas Covers for 76 mm main gun 
§ Set of Canvas Mud Flaps for Tires
§ Gunner's Traverse Indicator & Sending Unit   
§ Original Fuel Level Sending Unit
§ 2 Original New Headlights
§ Original Inside Light Fixtures
§ Hydraulic Steering Cylinder
§ Seals for Middle Bevel Box
Spare Parts for B80 Rolls Royce Engine: 
· Exhaust Manifold Gaskets
· Rebuild Kit for Fuel Pump
· 2 Original Solex Carburetors + Parts Kit
· Gasket Set for  B80 Rolls Royce Engine
· Oil Pump for RR Engine
· 1 Oil Filter Cannister
· 1 Oil Filter
· 3 New Original RR B80 Oil Filters
· New Water Pump 
· Rebuilt Water Pump
· 2 Original Generators
· Original Generator Mounting Setup
· Oil Bath Type Air Filter Housing
· Camshaft for B80 Rolls Royce Engine (approximately 800 miles on it)
· Set Camshaft Bearings 
· Crankshaft Pulley/Harmonic Balancer 
· 2 New Fuel Filters
· Rebuilt Fuel Pump 
· 2 New Engine Thermostats for 
· 1 Set New B80 RR Engine Bearings 
· 1 New Set Kigass Fuel Injectors   
· 1 Used Set Kigass Fuel Injectors 
· Distributor Cap
· Rotors 
· Points
· Spark Plug
restoration photos at:

https://far.smugmug.com/Saladin-PicsX
Panhard M3  $20,000   Sold

Runs and drives well.   kit and spare parts included.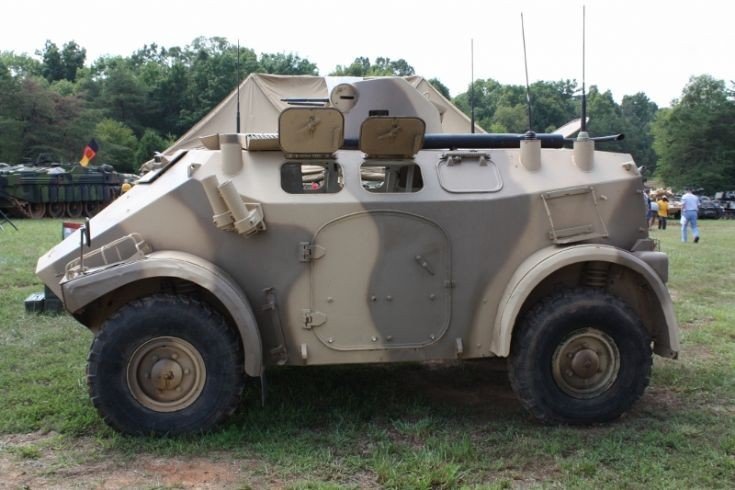 MK 2 Bren carrier.  Runs and drives well. All original except one engine cover. Some kit included. Sold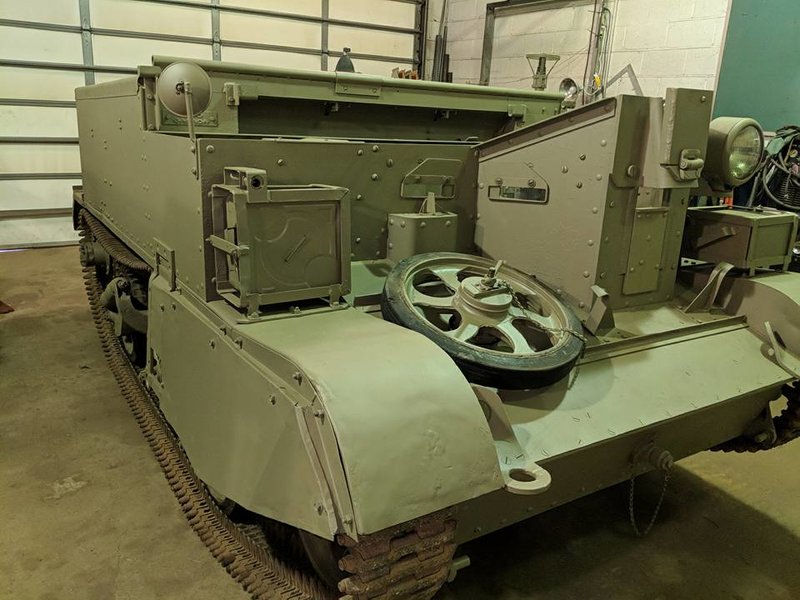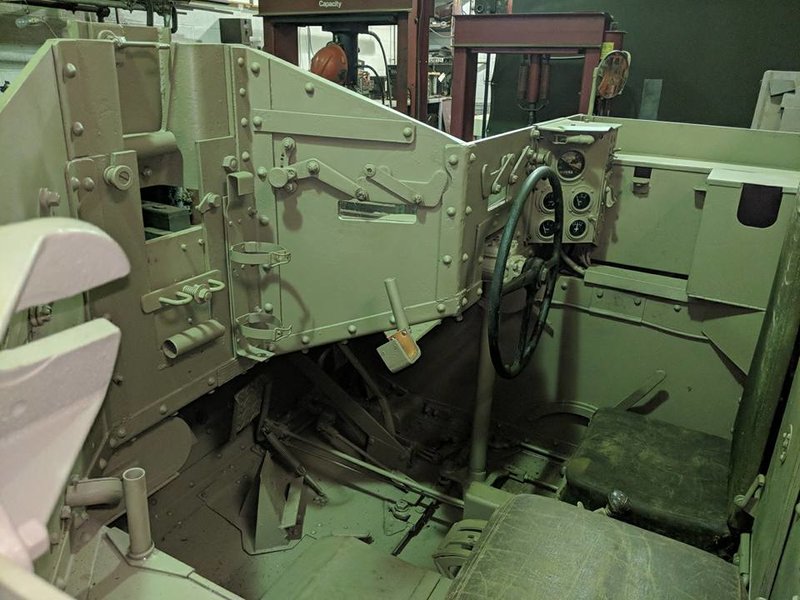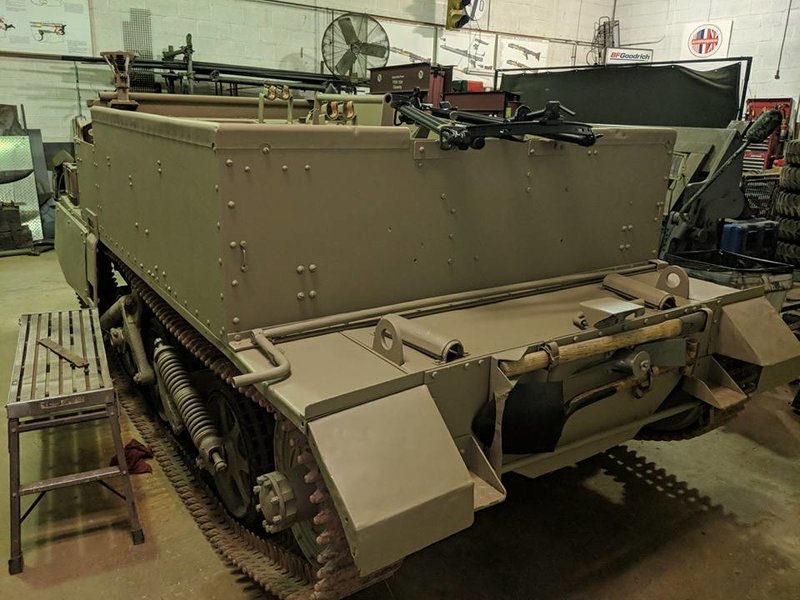 M 42 duster AA tank.  Based on the M 41 Walker Bulldog tank. AO 895 supercharged, air cooled 500 HP engine. Vehicle runs and drives well. Turret works and guns are demilled in accordance with ATF regulations. Comes with spare barrels. Sold.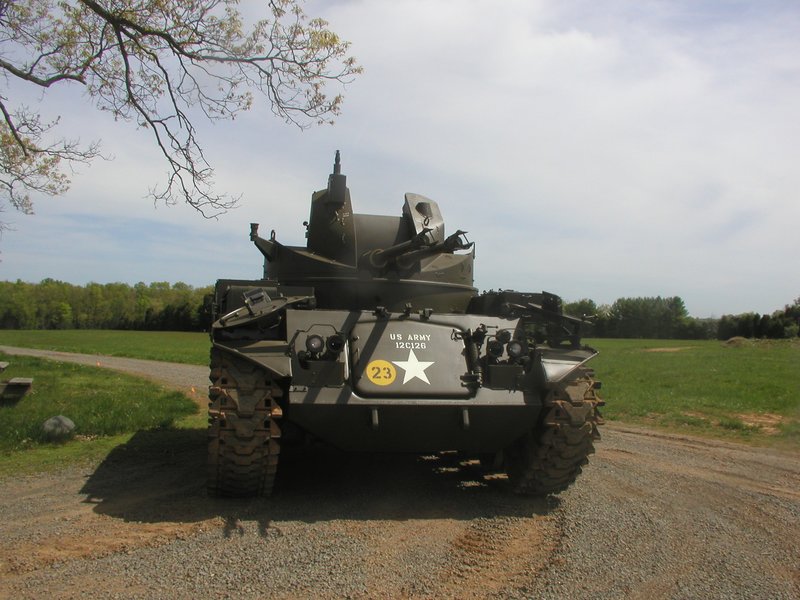 LSSV ambulance. 2005 with 215 miles on it from new.  Fully functional with dual voltage systems, 4 wheel drive, spot light, black out lights, brush guard, AC, CD player, green seat covers, intercom.  Sold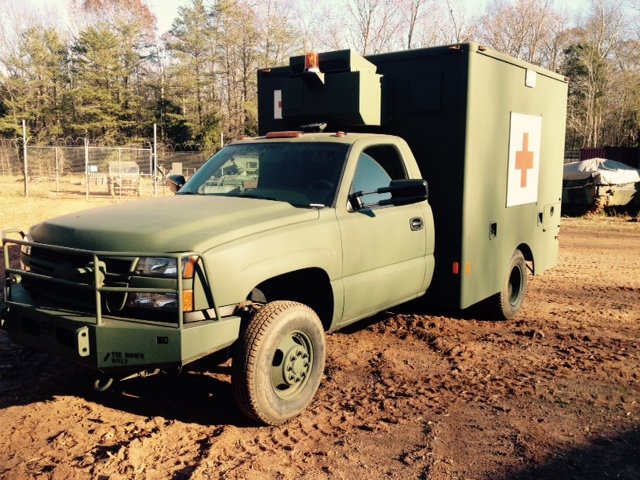 Morris Commercial   CS8    4X2   1940   6 cyl 25 HP side valve engine.    This is a chance to own a very rare fully restored British military truck. Restored in the UK in the mid 80's, inside kept since then. Runs well and is in very good condition.  Sold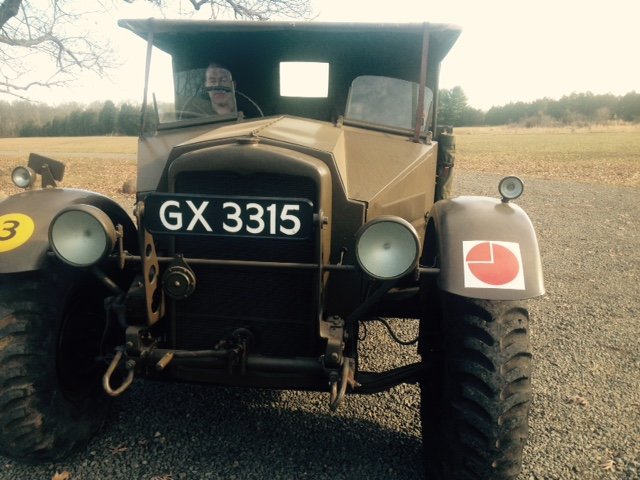 1940 Indian Model 640 Military Bike - Sold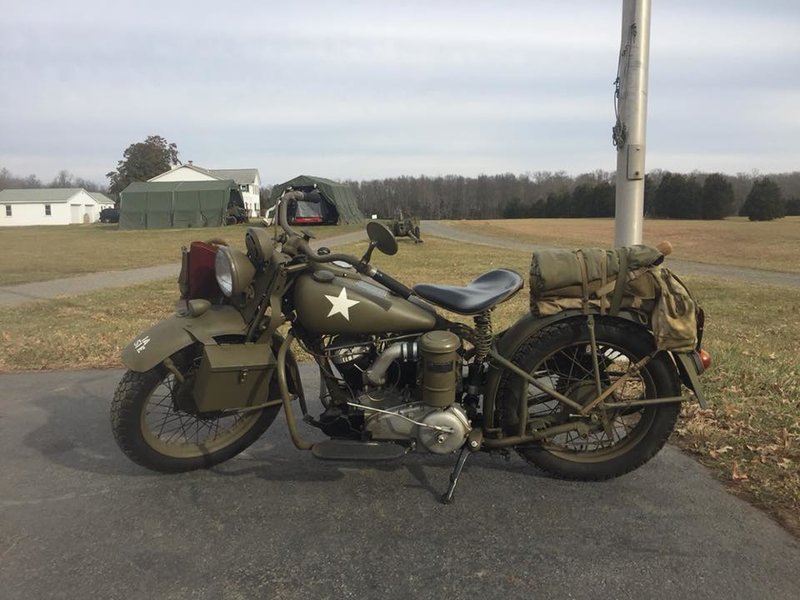 For sale is a 1940 Indian motorcycle, model 640, that was made for the military. They only made 2500 of these bikes and they are rare in the states. Fresh restoration only two years old, done by a professional Indian Restoration expert in Pennsylvania. This bike has less than 200 miles on it since restoration. This is a suicide shift bike. Left hand throttle, right-hand spark advance, left foot clutch, right side shifter. Own a piece of American history! Only thing that I have not done yet it's hook up the speedometer cable, and the voltage wire. Bike is complete.

C15 TA  armored car  $25,000   SOLD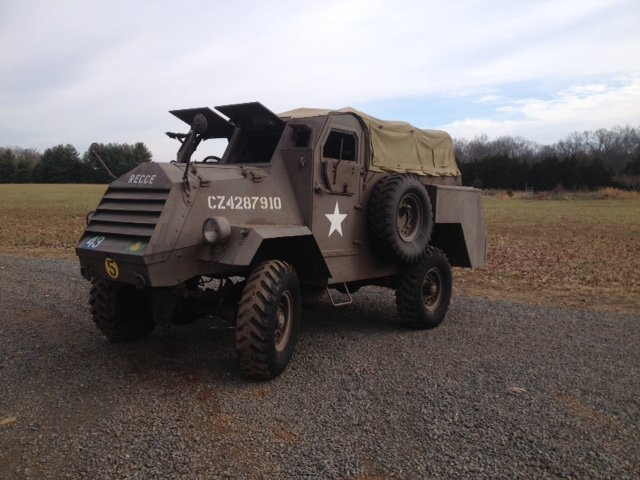 M 10 ammo trailer. unrestored, fairly complete, missing rear hitch. Sold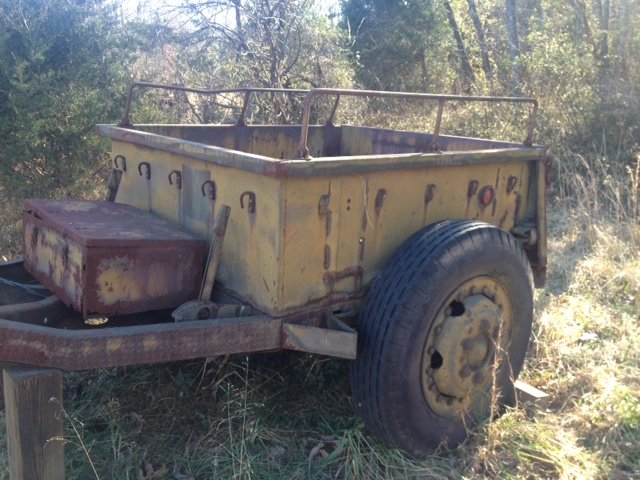 Ferret armored car
Very clean Mk 2/3 Ferret armored cars. ..  Ferrets run and drive well.  Windshield, sand channels, extinguishers, stove, tools,  etc. These were the direct MOD release Ferrets that have run only a few miles a year and were kept for our museum. They were both pulled by Alvis to be repowered but the project never happened. They were the best of the released ferrets.
Ferret number 1 Sold.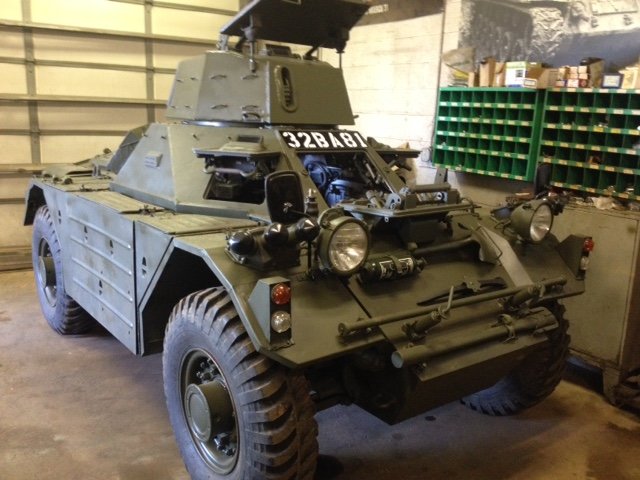 Ferret number two Sold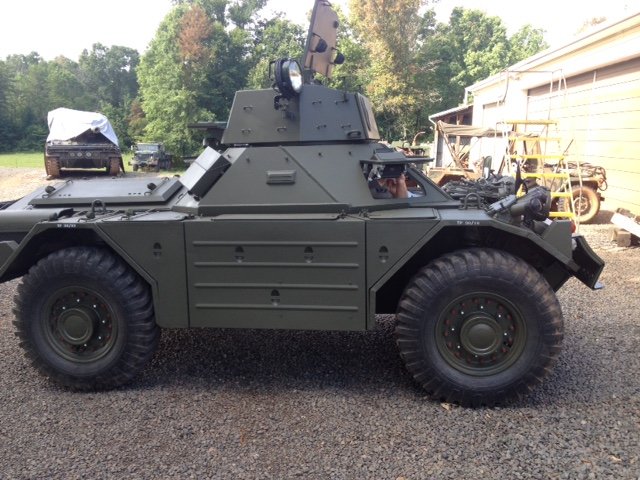 FOX armored car .     Complete older restoration.  some kit included.  Runs very well.  Sold.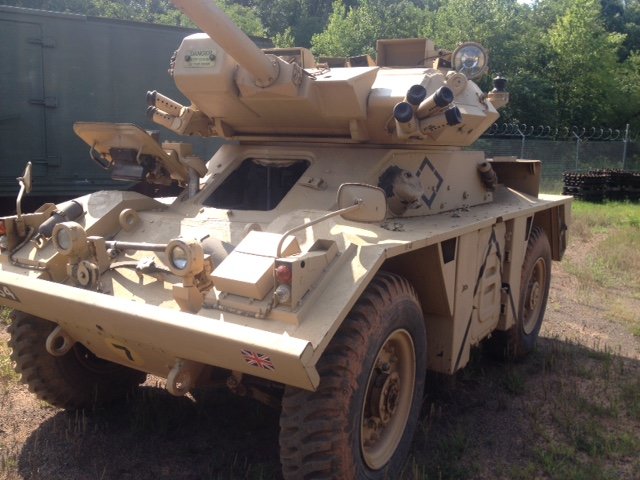 Abbot SPG,      $78,000              Sold